Captain D's is a U.S.-based chain of fast-casual restaurants specializing in seafood. Since it was founded in 1969, the company has been committed to great food and a superior customer experience.
Ann Sizemore, SPHR, Vice President of Human Resources for Captain D's, understands that the customer experience starts first with providing a best-in-class employee experience. In a historically tight labor market and with increasing competition from other chains, she pushed for a more creative solution to recruiting and retaining staff.
After a thorough evaluation of multiple options, Ann and her team decided to test a daily pay benefit at a number of locations — in particular, the Panama City store that faced fierce recruiting competition in the wake of Hurricane Michael — to see if they could bolster employee engagement and retention.
Reducing Employee Turnover
Ann is meticulous about monitoring Captain D's 30, 60 and 90-day turnover rates as a way to gauge the company's true cost of turnover. Turnover in the first 30 days is particularly important because employees who leave within the first few months are the costliest due to the resources for training. In beta test locations where Captain D's deployed DailyPay to gauge its effectiveness, Ann and her team saw employee turnover decrease by approximately 72%.
This reduced turnover rate was 66% lower than the average for all other locations. Ann attributes this decrease in turnover to DailyPay because, "When it's a benefit that only we offer, employees think twice before walking out the door — leaving their job means leaving their daily payment option."
Increasing The Applicant Pool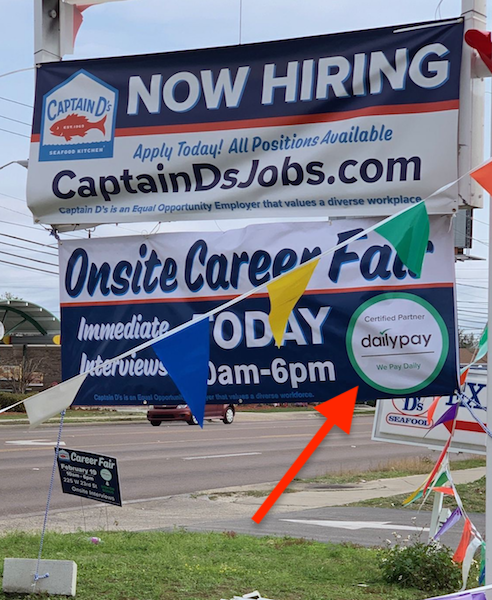 Captain D's has a store located in Panama City, Florida, which was almost completely destroyed after hurricanes Irma and Michael hit in 2017 and 2018.
As businesses rushed to renovate and re-open, it created a sudden influx of job availability. This recruiting crush, coupled with a reduced applicant pool — most people had not yet returned to the area if their homes had been destroyed — created a hyper-competitive job market that Ann said called for a focused, "boots-on-the-ground" approach to recruit new staff.
At its first job fair in Panama City following the hurricanes, Captain D's used DailyPay as a way to differentiate itself from the competition. Across two locations they hired 89 employees from 391 applicants.
Not only did the daily pay benefit attract the attention of those who attended the job fair, but Ann and her team were also amazed to see new applicants apply who had heard about the benefit through word of mouth in the community.
Improved Employee Engagement
Captain D's has also found that, in addition to using DailyPay to access earned income ahead of payday, employees also use the app to check their accrued income balance regularly. This has incentivized many employees to sign up for more shifts, realizing the immediate impact more hours can have on their next paycheck.
According to Ann, DailyPay's available balance feature has put the budgeting power in the hands of their employees who naturally tend to be conscientious about their spending. Being able to track their earnings enables employees to understand how much money they actually have, and what one shift of work translates into with regard to savings, or a purchase they've been considering.
Ann says that, all-in-all, Captain D's beta and subsequent alpha tests of DailyPay have "been incredibly smooth so far."