Retail Turnover Rates In 2018
The following article is another in our series that examines average employee turnover rates by industry. In this article, we hold the retail industry under a microscope to see what might be affecting employee turnover and retention rates, and why employees in this industry are some fleeting.
While the average turnover for all industries in the United States sits at around 15 percent, the average turnover rate in the retail industry is slightly above 60 percent, according to the National Retail Federation.
The unprecedentedly high turnover rate translates into more than 230 million days of lost productivity and $19 billion in costs associated with recruiting, hiring and training, according to Human Resources Today.
Research by analytics company, Workforce Software, shows that operators have long known turnover is an issue in their industry, and have pinpointed specific issues that have compounded the problem:
Maintaining store processes and training in a high-turnover environment is difficult
Lacking consistent store execution and employee productivity
Needing help attracting and hiring good people
Turnover disrupts the quality of service, adds expenses to a business' bottom line, and can impact overall workplace morale.
Want to learn more about DailyPay helps retailers attract and retain employees and boost productivity?
READ THE EBOOK
Variations of Retail Turnover
While the total turnover rate is close to 60 percent, each position within the retail sector has unique levels of separation. Online publication World at Work breaks down turnover at a granular level:
Hourly store employees have the highest turnover rate at 65 percent
Retail distribution positions have a turnover rate of 23 percent
Corporate positions have turnover rates of 18 percent
The cost of turnover varies based on job title as well.
For associate level positions, employers can expect to pay 16 percent of an annual salary to replace a worker. For an associate who makes $10 an hour, it would cost around $3,328 to replace them.

It costs around 20 percent of an annual salary to replace a midrange position, like a manager. If a manager at your organization earns $40,000 each year, it would cost around $8,000 to replace them.

For executive-level positions, organizations will pay around 213 percent of an annual salary to replace them. For example, if a CEO at your organization earns $100,000, it would cost $213,000 to replace them.
Revolving turnover compounds cost, meaning the higher the turnover rate, the more a business's bottom line is impacted. It is critical for employers to get to the bottom of their turnover problems so they can protect their profits.
Factors That Contribute to Turnover in the Retail Industry
According to research by Harvard Business Review, hourly employees say they are most likely to leave their current position for the following reasons:
Finding better opportunities or promotions
The desire to make more money
Relocating
Additionally, according to Home Depot's 2017 Annual Survey, specific economic and industry trends impact their ability to maintain healthy staffing levels:
Difficulty attracting, developing and retaining highly qualified associates while also controlling labor costs
Wage inflation as a growing issue
Inability to provide wages and/or benefits that are competitive within the markets
Changes in market compensation rates adversely affect our labor costs
Home Depot's survey goes on to note that, "Associate positions have historically had high turnover rates, which can lead to increased training and retention costs, particularly in a competitive labor market. There is no assurance that we will be able to attract or retain highly qualified associates in the future."
How to Take Control of Turnover in the Retail Industry
Even as a growing amount of sales and product research occur online, research by Workforce Software shows that 90 percent of retail sales still occur in a physical store, which means maintaining staffing levels is critical for an organization's on-going success.
To attack high turnover, the following strategies have become reimagined and fine-tuned by big-box retailers.
Improving Recruiting Practices
In a tight labor market, it's easy to move quickly through the recruiting process, extending offers to willing participants without properly vetting them for qualifications. Even in entry-level positions, taking the time to look for candidates to demonstrate qualities that will make them successful in their role is an important component to decreasing turnover.
Associates in the retail industry represent the customer-facing aspects of your business and therefore should possess characteristics like:
Patience
Enthusiasm
Dependability
Positivity
During the recruiting process, take time to administer assessments like a Situational Judgement Tests (SJTs) to see how your applicants will fare in the role at hand. Taking action to assess candidates before hiring them can lead to candidates who fit better within their role, and therefore are less likely to turnover frivolously.
Focusing on Learning and Development
Increasingly, organizations view talent management and employee development as a shared responsibility between business and HR. As a result, learning and development programs are becoming more abundant as they allow organizations to:
Remain competitive
Defend against skills shortages
Increase worker productivity
Decrease turnover
Major retailers have recently bound together to create RISE UP (Retail Industry Skills & Education), which is a program designed to offer employees ongoing support and training.
The pledge of RISE UP is to help workers secure the skills and training they need to land jobs in the retail sector and give them the tools to keep them rising through the ranks of the company. This attention to an underserved market is a great way to find talent, even as the labor pool is becoming more competitive and build loyalty with workers to mitigate turnover.
The RISE UP program is a collective of 21 merchants including:
Walmart
Macy's
Target
Neiman Marcus
Under Armour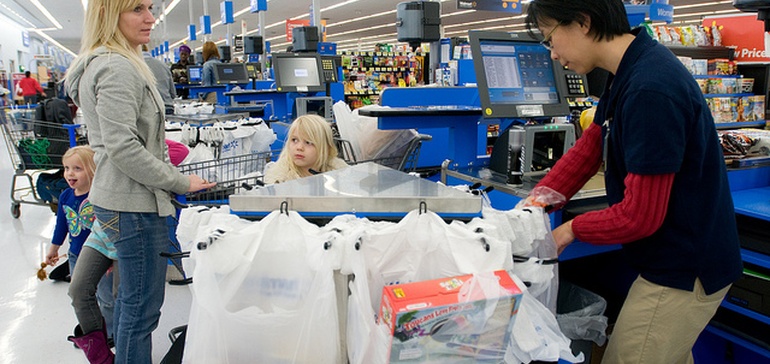 Finding and Implementing Employee-Focused Benefits
Over the years, Walmart has earned a reputation for paying their staff low wages and unreliable scheduling shifts. In order to combat negative perception, and ease its workers' financial strain, they implemented a daily pay benefit, which allows workers to receive their earned but unpaid wages before payday.
Best Buy is another organization who deserves recognition when it comes to taking strides to reduce turnover through unique perks. Best Buy recently began targeting turnover by offering:
Tuition assistance
Backup childcare
Paid time off for part-time employees
Inventive benefits can help differentiate your organization in a competitive marketplace. Benefits that speak directly to employee needs or concerns can help retain your staff; why leave an employer when their benefits are the best in the market?
Shaping the Employee Experience
Employee experience is a hot buzzword in human resources right now. In a nutshell, employee experience defines how your employees feel about their experience throughout their journey with your organization.
By improving employee experience, or the way an employee feels about working at your organization, you can curb turnover. Payroll provider, Paychex, ran a study earlier this year to pinpoint ways organizations can successfully improve the employee experience.
The results showed that a daily pay option ranked as one of the top five options for organizations to boost the employee experience.
Daily pay options are also proven to benefit recruiting, retention, and employee engagement.
Our proprietary data shows that companies that offer on-demand pay:
Fill open positions 52% faster than organizations who don't offer an instant payroll benefit
Experience an average of 41% reduction in attrition
DailyPay costs nothing for a business to roll out or maintain, which means organizations of any size can take advantage of the benefit without worrying about their bottom line.
---
Want to learn more about how DailyPay is curbing turnover costs for retailers?
GET A NO-OBLIGATION DEMO