You Shouldn't Have to Run Payroll Daily
I am protesting daily payroll.
In a world where technology has enabled all services to be delivered with a tap of a button — and to be delivered instantly — the thought of "daily payroll" is horrifying.
How does this work if my employees have garnishments, such as child support? What about those employees with benefits deductions in arrears? And how will I ever convince my CEO or CFO that I now need payroll dollars to fund payroll every day, rather than just on the scheduled payday?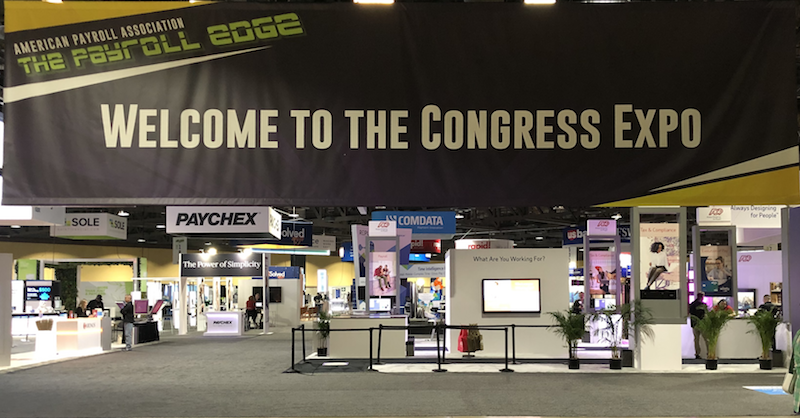 The thought of running payroll daily at many of our companies is a complete non-starter. In fact, it is a consideration that is worthy of protest. And by protest, I don't mean the "I'll add my name to a change.org petition" or "I'll update my Facebook avatar for two weeks" kind of protest … I'm talking about the knock-down, drag-out, sign-carrying, march-on-Washington kind of protest.
Quite simply:
We cannot.

Ever.  

Be asked to run payroll daily (or anything that even remotely resembles it).
And this is why I'm so excited to be here at the American Payroll Association Congress this year. I'm here to introduce innovative technology that gives employees instant access to their earned but unpaid income, without any change to the existing payroll process, including the timing of funds.
One more time: providing employees daily pay, without running payroll daily.
If you're new to this discussion, here's why this is such a relevant topic today:
Introducing ERIN…
Your employees are financially insecure — 78% of all Americans are living paycheck to paycheck. That means almost eight out of ten of your Employees Require Income Now.
I call these folks ERINs.
ERINs may have a medical bill or rent to pay, and would be forced to pay a late fee or overdraft charge if they have to wait for payday to pay it. ERINs need simplicity and helpful ways to meet the demands of everyday living, because the alternatives are complex and expensive.
…And her peer MAGGIE
By 2022, three-fourths of the workforce will be made up of Millennials and Gen Z. Analytical and astoundingly adept at accessing information via technology, once they've made a decision, they seek and expect immediate feedback. They may spend weeks researching and deciding on a particular purchase, but once they have made up their minds, they expect to have the product delivered instantly.
Millennials And Gen Z who Get Instant Everything – or MAGGIEs – have grown up in a world where technology enables the instant transfer of money (Venmo/Zelle), the instant access to any song ever produced (Spotify/iTunes), and of course the instant arrival of a personalized chauffeur (Uber/Lyft).
MAGGIEs are puzzled by the fact that they don't have instant access to money they've already earned. Not that they would use it, but the mere fact that they don't have access is contrary to every other aspect of their lives.
ERINs and MAGGIEs dominate the workforce. And as such, we have the opportunity to meet their unique needs through leveraging simple technology with no change management.
No change management when you're on the "edge"
The theme of this year's APA Congress was "The Payroll Edge," and while the "edge" can feel risky or evoke fear (i.e., the edge of a cliff), technology and innovation in payroll is the opposite. Technology makes payroll easier and reduces risk.
(From L to R: APA Executive Director, Dan Maddux; Academic, Author, and Entrepreneur, Vivek Wadhwa; and DailyPay CEO, Jason Lee.)
The result of offering a daily pay benefit is no different. This offering is designed to result in absolutely NO change to your existing payroll processes. That means no change to your funding schedule, no change to how employees receive their pay today (i.e., they can use their existing bank accounts and/or paycards), no additional work on payday, such as running special deduction codes. All of this results in the potential for error, or at a minimum, additional work.
When implemented in this way, a daily pay benefit is payroll on the edge, payroll that provides instant access for MAGGIEs and meets the financial day-to-day needs of ERINs.
We are thrilled to share some of the experiences of our world-class employer partners who have already implemented DailyPay. We even invited one of them here to Congress to speak alongside us. We are thrilled to share the stage with G4S, the third largest employer in the world, who is now offering DailyPay to all U.S. employees. Joining them in offering DailyPay are other Fortune 500 companies, including Berkshire Hathaway, Adecco Staffing and Burger King.
By offering employees control over the timing of their pay, companies can help employees meet their financial responsibilities on time, with transparency into the income they've accrued during the current pay cycle.
---
Want to talk more about DailyPay?
Thank you to everyone who visited our booth during #PayCon, or came to one of our presentations during the conference. If you'd like to continue the conversation about how we can help you run payroll daily, please sign up to talk with one of our consultants.
{{cta('ccec4056-ec9f-4ac9-82e2-f2c7f0436131′,'justifycenter')}}