Market forces driving payroll trends in 2018
Parallels Between the Movie Industry and the Payroll Industry
In the early 2000s, Blockbuster had several opportunities to acquire a small upstart called Netflix.
Secure in its belief that the home movie business would never change, Blockbuster declined every time. In 2011, Blockbuster went bankrupt, and today we can now watch a movie on our phone while waiting in line, thanks to Netflix.
To be fair, Netflix didn't come up with the concept of e-commerce or streaming or smartphones. Those things just happened.
The genius of Netflix is that it identified a once-in-a-generation perfect storm of market forces that, on the surface, appeared unrelated to the industry, and they anticipated (correctly) the effect this perfect storm would have on the way we watch movies.
Market Trends Changing the Payroll Industry
Today, we are in a once-in-a-generation perfect storm in the payroll industry.
Unrelenting market forces—unrelated to payroll—are conspiring to create major change in our industry. The result of this perfect storm is that employees want to control the timing of their pay. And employers will have to meet this demand.
The first of these market forces has nothing to do with payroll per se, but rather how we consume goods and services. Everything from ordering an Uber to tonight's dinner can be done from the palm of your hand.
Millennials and the incoming Generation Z use payment apps like Venmo to instantly zap their friends money for pizza. "Instant" is not novel anymore. It's the expectation.
The second of these market forces is the tightness of the current labor market. The unemployment rate is at its lowest since 2000, and it continues to decline.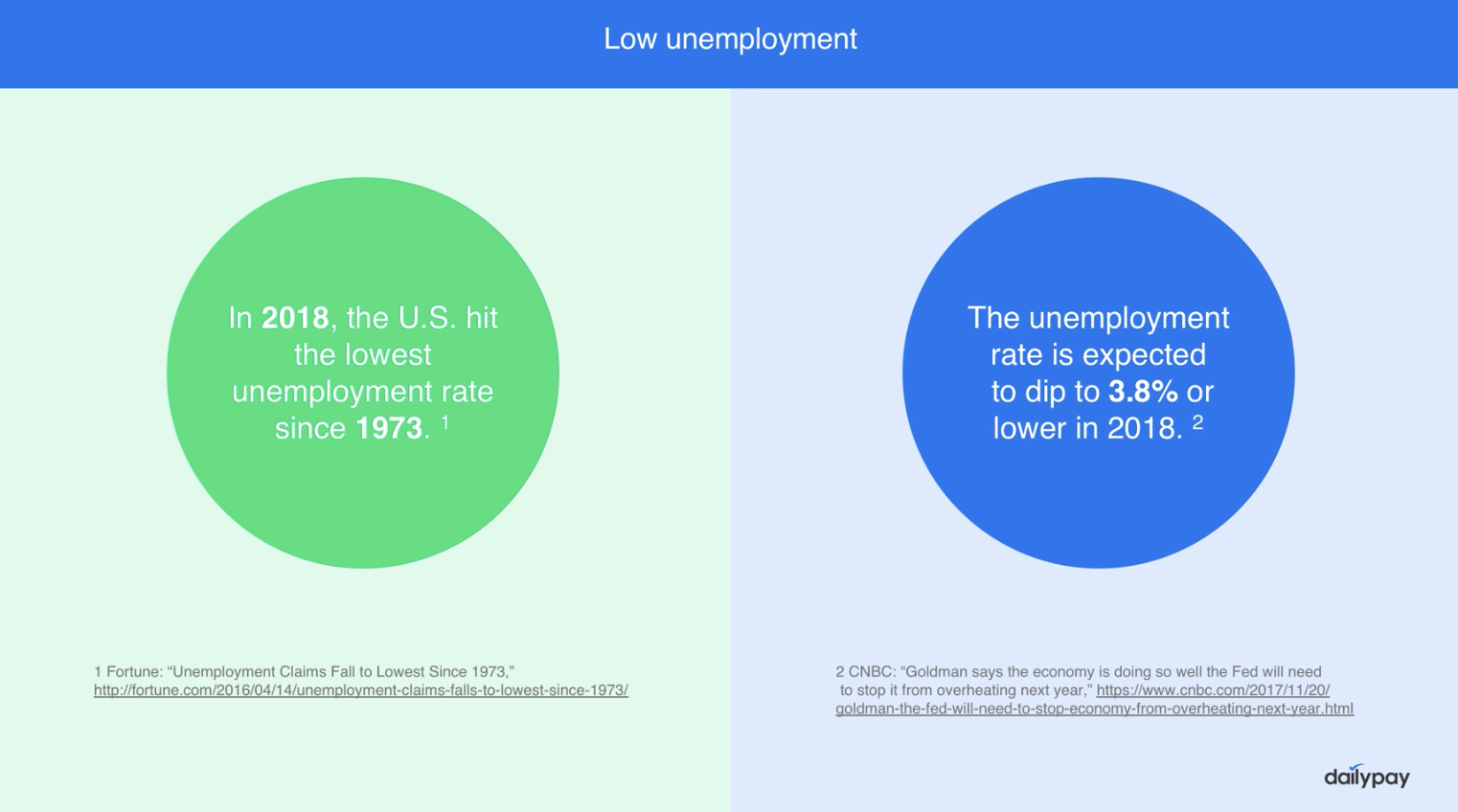 Companies simply cannot find and hire workers today. Even worse, once someone is hired, that person will leave for modest increases in wages, causing turnover expense for companies. According to the Center for American Progress, the average cost of employee replacement ranges from 16% to 216% of the departing employee's annual salary.
The third market force is that, according to a CareerBuilder survey, 78% of full-time workers live paycheck to paycheck. These workers incur, on average, $1,000 per year in late and overdraft fees as they wait to get their next paycheck before paying bills.
The Rise of On-Demand Payment Solutions
The net result of these three seemingly unrelated forces is that companies must offer their employees an ability to meet financial obligations on time, or else face losing them in a difficult labor market.
We are witnessing first hand a movement by companies to address these challenges by offering their employees control over the timing of their pay. Companies like Uber and Walmart have already joined the DailyPay Movement, enabling their employees to access earned income on their own timing.
Importantly (and great for the payroll industry), technology now exists so employees can receive this benefit without the employer changing anything about its payroll process, including the timing of payroll funds.
Ask anyone under 35 about the last time they drove somewhere to rent a movie. At best, you'll get childhood memories. In a few years you'll get the same reaction if you ask when payday is.
We look forward to partnering with you to embrace this inevitable change.
---
{{cta('14f13d6b-6f0c-49b0-978f-d697848e43b2′,'justifycenter')}}