The Future of HR: Technology That Transforms Employee Experience
Currently, there are 6.6 million job openings and 6.6 million unemployed people in the United States. In other words, there is one open job per unemployed person in today's tight labor market. During the 2007-2009 recession, there were more than six unemployed workers per one open job. As the employment tables have turned, it's now employers, not employees that must compete to be noticed.
The current hiring landscape is forcing employers to find innovative ways to attract talent, engage employees, and foster an environment that keeps skilled employees around. As a result, employee experience has become the buzzword of the year, or at least the buzzword of the 2018 HR Tech Conference recently held in Las Vegas.
And it makes sense.
Talent retention is even more critical than ever and businesses are doing more to keep current employees in their jobs by offering the best employee experience possible. Focusing on employee experience is crucial as employees are many companies most valuable asset.
What Does Employee Experience Mean?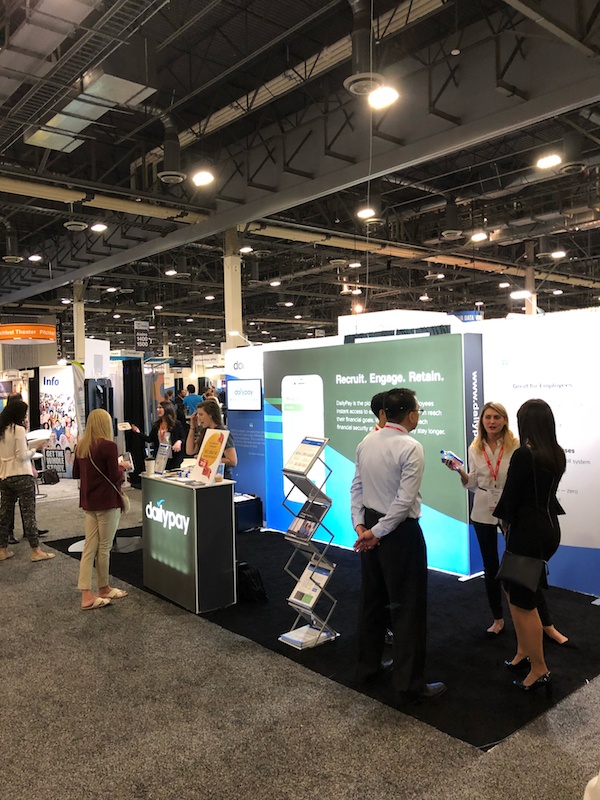 As Josh Bersin, one of the 2018 keynotes speakers at the HR Tech Conference in Las Vegas puts it, when designing a workplace environment, we need to "think about how to stop interrupting people and think about how to make their work easier, more productive, and more meaningful."
This improves the employee experience, which Forbes contributor Denise Lee Yohn, describes as the "sum of everything an employee experiences throughout his or her connection to the organization — every employee interaction, from the first contact as a potential recruit to the last interaction after the end of employment."
Luckily, there are a plethora of HR tech tools that can improve employee experience, from recruiting to retention.
HR Technology for Employee Experience
Reaching candidates correctly
A current trend in HR is leveraging technology for smarter recruiting strategies, and programmatic recruiting was widely discussed at the HR Tech Conference.
Through programmatic recruiting technology, employers can serve job ads through targeted 'rules' like:
Demographic details about their ideal candidates
Budget
Quantity of applicants
Business objectives
Then, through machine learning, data, and algorithms, presents the ads, at the right time, in the right place, to candidates who are most likely engage with the advertisement. The goal is to sort through less candidates by finding the most qualified ones quickly.
A handful of companies at the HR Tech Conference, like PandoLogic and AppCast, gave great demonstrations of programmatic recruitment. They showed how the technology can help HR departments eliminate inefficiencies that plague the traditional recruiting process while addressing one of the biggest determinants of candidate conversion: a slow moving recruiting process.
Take away: Programmatic recruiting ensures your job ad is seen by the right candidates on the right sites at the right time. A win-win for employee experience, and businesses alike.
A.I. for process improvements
Companies have been using A.I. to enhance the customer experience for years. Now, the same technology is being utilized to improve the employee experience. Analytics typically run in the background of processes from recruitment to employee development, which means most companies already have the data they need to change essential HR functions.
By taking the data that's already at our fingertips, we can start to assess our workforce more accurately. For example —like programmatic recruiting—A.I. can also shave time and costs from the recruiting process. A.I. can sort candidates quickly to identify the best matches, streamline interview and scheduling processes, and help foster meaningful candidate relationships. These capabilities lead to:
Improving speed to hire rates
Decreasing interview to hire ratios
Increasing acceptance rates
A faster, more robust recruiting experience is a way to improve the employee experience at first contact.
Further, IBM predicts that AI-powered tools will soon be used for improving operations, and talent development.
Take away: By learning more about our current workforce, we can implement strategic process changes that lead to more productivity, better decision-making, and higher quality contacts.
Technology for Diversity
Another major topic covered at the HR Tech Conference was diversity. Diversity and inclusion are proven to improve the overall working atmosphere for your employees. According to Glassdoor, 67% of passive & active job seekers cite diversity as an important factor in evaluating companies and job offers, and 57% of employees want to prioritize diversity.
Diversity and inclusion make your employees feel good.
As such, technology that helps build more diverse workforces are valuable, and becoming more recognized than ever.
In fact, the winner of the "Next Great HR Tech" award at the HR Tech Conference was Blendoor. Blendoor is software that helps candidates find companies that prioritize equity, diversity, and inclusion.
Apart from future and current employees prioritizing diversity and inclusion, there are monetary gains to be made from it as well. Research from Josh Bersin shows that more inclusive companies are 1.7x more likely to be innovation leaders, and have a 2.3x higher cash flow per employee over a 3-year period.
Take away: Technology can help organizations easily assess their workforce to ensure they are catering to the employee experience – inclusion and diversity.
Technology to Improve Financial Wellness
Wisely by ADP, winner of the Awesome New Tech Award at HR Tech, and DailyPay, a finalist in the The Next Great HR Technology Award at HR Tech, are both about revolutionizing the employee experience through payroll disruption.
Our CEO Jason Lee spoke at the HR Tech Conference about the importance of thinking about employee's financial wellness. Financial security is a fundamental human need, but as it is today, 40% of employees can't afford an unplanned expense.
When unplanned expenses don't align with payday, the cost of an emergency can skyrocket. When your employees don't have the funds on hand, they are forced to turn to credit cards, payday loans, or overdraft fees to cover the expenses. On average, Americans spend over $1,000 per year in late and overdraft fees.
The rise of daily pay benefits indicate a disruption in this trend.
DailyPay allows employees to access their earned but unpaid income, when they need them, before payday. In additional to accessing a portion of their earned income, employees also get financial wellness tools and high impact education advice.
Take away: As financial needs are met, it deepens the bond between employee and employer. Employees have a better experience, and are more satisfied at work.
Like technology, employee expectations are always changing. Keeping up with the latest trends for attracting and retaining top talent will be critical in staying competitive.