Hiring Trends – How Seasonal Recruitment Cycles Vary By Industry
In our previous article, we talked about surprising strategies that will help businesses recruit the best talent. In this article, we discuss the seasonal influence on hiring, and how understanding your recruitment cycle can make recruitment strategies even more effective.
As seasons change, so do recruiting and hiring patterns. By analyzing recruiting data, plenty of high-level observations can be made, like the primary hiring months across all business, which according to the Job Openings and Labor Turnover published by the Bureau of Labor Statistics (2018), happens during:
January

February
Late September
October
You can also deduce which months have more new job openings than the yearly average, which are:
November

February
March
May
June
And, you can also get a comprehensive look at individual industries, and how the time of year affects hiring and recruiting.
Learn about how the timing of cash flow is extremely important to workers.
SEE THE WEBINAR
What to expect from each season?
Winter
The first quarter of the year tends to be a busy recruiting time for a number of factors. For professional service industries, annual budgets start over, and filling vacant spots in an organization becomes a high priority. Secondly, there is a surge in hiring to cover the consumerism during the holidays which impacts specific industries like:
Warehousing

Transportation
Retail
Customer service
January through April is peak season for tax and accounting professionals which means hiring accountants or other tax professionals should start in early winter or late fall.
Spring
Usually, the spring marks a slight dip in the recruiting and hiring stage with a few exceptions to the rule.
Recruiters may start targeting soon-to-be college graduates before they enter the job market, especially for positions that are otherwise difficult to fill.

Springtime also tends to be a high season for hiring in the construction, tourism, and hospitality industries.
Summer
Some industries feel a surge in hiring during the summer months, especially at locations that experience high tourism or outdoor features. According to the BLS the specific industries that endure employment peaks during the summer are:
Golf courses and country clubs

Marinas
Amusement parks
Arcades
Photogenic quote
All of which average a hiring influx of 1.6 to 2.0 times higher than their winter lows.
Additionally, the number of people employed at museums and hotels and motels in the summer is about 1.1 times higher than the number employed in the winter. School districts may also find themselves recruiting heavily in the summer if they need to replace teachers who don't return for the following school year.
Fall
The fall is a season of resetting. Many workers are returning from summer vacation and schools reopen after a three-month hiatus. As staff from all industries return to work full-force, hiring managers have more availability for interviews and applicant screening. The goal of fall recruiting is to fill vacant positions before the holidays (and fourth quarter push) rolls around.
What your HR and recruiting teams should do with this information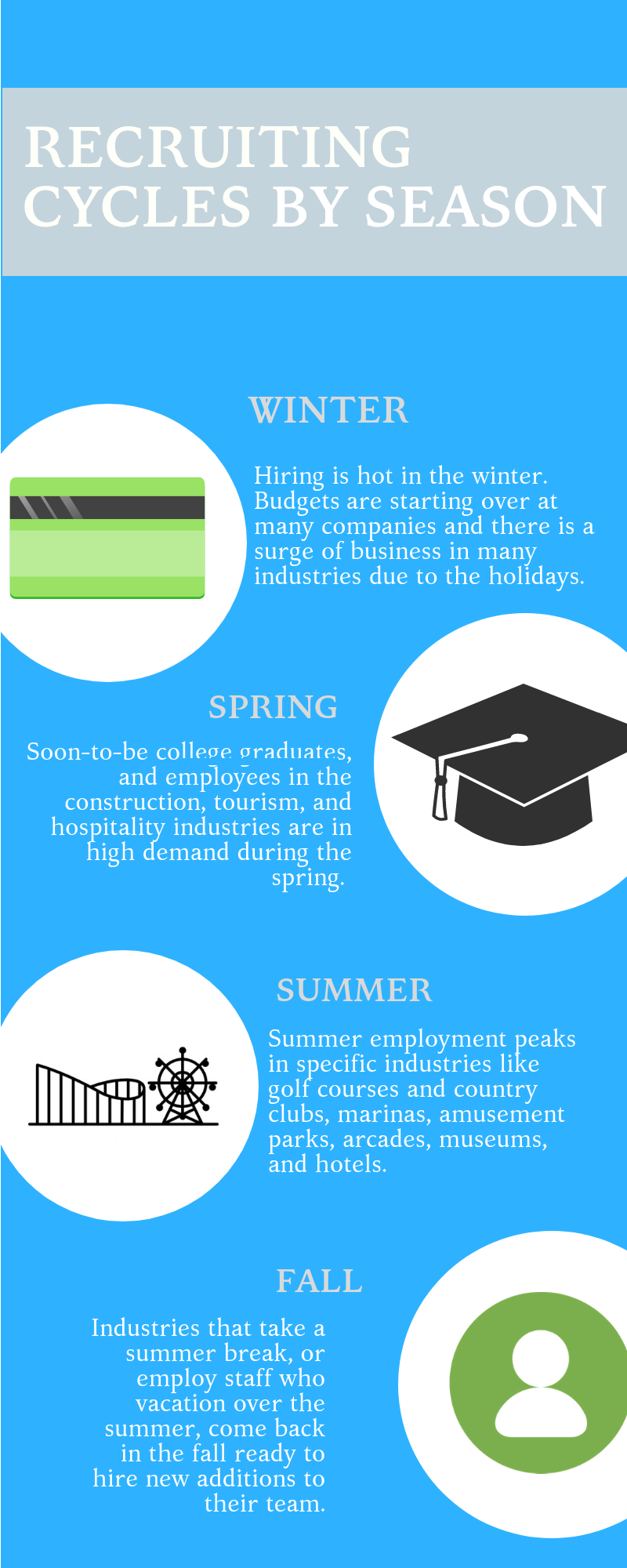 Did you know that a striking 47% of small businesses cannot find qualified applicants for open positions? At present, there are more jobs than available workers which makes it more challenging and competitive to recruit and hire.
Seasonal upticks increase the competition, which means businesses must rethink their recruiting and hiring strategies to have an upper hand and decrease staffing gaps.
Retain the talent you already have
The simplest solution is to decrease the need to recruit as much as possible. By retaining your existing workforce, you spend less time and money recruiting new hires. In order to retain top talent, it's necessary to gauge your overall engagement and workplace happiness. By using surveys like an eNPS or Pulse, you can assess how your staff is doing, and what you can do to make them even happier to improve retention and engagement.
Move quickly
Did you know the best candidates are off the job market within 10 days? Job hunters want to move quickly, so they have fewer gaps in their pay schedules. If your interviewing and onboarding process takes too long, they will move on to another company who acts faster than you. Cut down on your hiring process with technology that helps screen candidates, weed out any unqualified applicants, and improves a candidate's experience working with you.
Differentiate
When competition is stiff, it's all about differentiation. Consider this, if you're gearing up for a seasonal rush —like the holidays for a retailer — what are you going to do to attract workers more readily than big-name companies like Target or Macy's who may be able to offer better wages or employee discounts? The solution is to offer unique benefits that help you stand out in a crowd which allows you to reel in more talent than your competitors.
How DailyPay helps attract top talent
One of the major themes at the 2018 HR Tech Conference in Las Vegas was employee experience. According to several keynotes speakers, employee experience is the key to successful recruiting, retention and employee engagement. Employers need to think of employees first, especially in a tight labor market, to keep their organization running smoothly.
One way to improve the employee experience is through daily pay benefits.
Dailypay benefits allow your employees to access their earned but unpaid pay, instantly. That means:
New hires don't have to wait two weeks before their first paycheck

Employees have more control over their finances
Workers have increased financial security should an unexpected emergency arise
We've found that companies who offer DailyPay have more luck recruiting:
Applicants are 1.9x more likely to apply for a job with daily payments

Applicants are willing to take, on average, a 13% pay reduction for a job with daily payments Applicants are 1.5x more likely to apply for a job with 50% less signing bonus if it offers daily payments
By paying attention to employee's first, hiring and recruiting will become an easier process regardless of the season.
Ready to learn more about DailyPay?
GET A NO-OBLIGATION DEMO