DailyPay Announces Partnership with Parker's Convenience Stores
Convenience store chain offers employees instant access to earned pay for greater financial flexibility and freedom
NEW YORK (July 30, 2019) – DailyPay, the leading provider of the daily pay benefit — a benefit offered through employers that allows employees to receive instant access to their earned pay — today announced a partnership with Parker's, a nationally-recognized leader in fuel and retail services with a chain of more than 50 state-of-the-art convenience stores across Georgia and South Carolina. Through this partnership, Parker's is providing a flexible means for employees to gain access to their earned but unpaid wages whenever they need them, without having to wait until their next scheduled payday.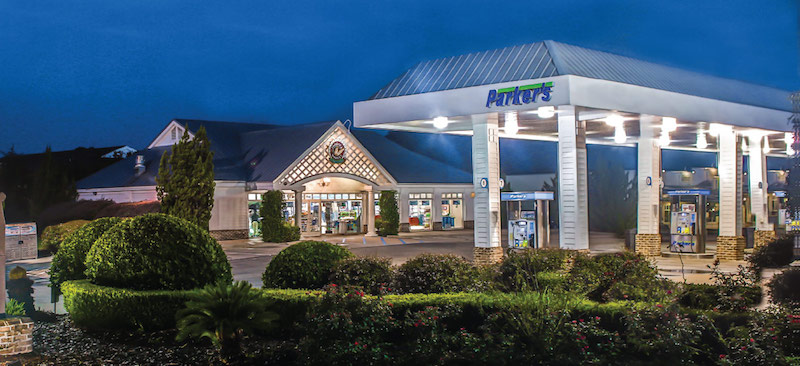 With a motto of, "Fast, Fresh, Friendly," Parker's is committed to providing its customers with first-class, high-quality customer service, around the clock for whatever they need. Founded in 1976, Convenience Store News recognized Parker's as the 2018 Foodservice Convenience Leader of the Year. In addition, Inc. has ranked Parker's on its elite list of the top 5,000 fastest-growing private companies in the U.S. for four consecutive years. The company employs nearly 1,000 individuals throughout the region and completes more than 125,000 transactions daily. Through its partnership with DailyPay, Parker's employees now have the ability to control the timing of when they get paid.
"At Parker's, top-notch customer service is the first priority for every one of our employees," Corey McClimans, Director of Human Resource for Parker's said. "That starts with our providing the best possible work environment for our employees, both at the worksite and in their lives outside of the job. DailyPay empowers our workforce with financial freedom to access their wages whenever they need them, not just on payday. This incentivizes our employees to bring their best selves to work each day, which results in continued great customer service. We're proud to be a leader in providing this innovative daily pay benefit to our employees."
With DailyPay, employees can transfer their accrued but unpaid wages to any bank account, paycard or debit card, prior to their next payday. Employees can also track their accumulated earnings during each pay period using the Pay Balance feature. In this way, DailyPay provides Parker's employees with a safeguard against unexpected expenses, and an incentive to work scheduled or even additional shifts to increase their Pay Balance.
"Employees are, hands down, a company's most important resource and, as employers, we have a duty to care for them," Jason Lee, CEO and co-founder of DailyPay said. "Parker's did just that — they listened to their employees and decided to provide financial flexibility by offering them a daily pay benefit. Now Parker's employees can access their earned wages through the industry's most intuitive and compliant on-demand pay platform. I'd like to welcome Parker's to #DailyPayNation, and I'm really looking forward to seeing how we'll grow together."
DailyPay is the only instant pay technology that is fully compliant in all 50 states.
For more information, please visit DailyPay.com.
About DailyPay
DailyPay, the leading provider of the daily pay benefit — a benefit offered through employers that allows employees to receive instant access to their earned wages, works across a wide range of industries, including quick service restaurants, hospitality, retail, healthcare and other services. One in six Americans now has access to DailyPay through our trusted payroll service partners, including ADP, Paycor, Alight, SmartLinx, Netspend and other HR and payroll technology providers, who offer the daily pay product to their customers. With DailyPay, employees can pay bills on time and avoid late fees, helping them to reach their financial goals. Companies have reported that DailyPay increases employee engagement and retention and helps to support recruitment. DailyPay is backed by leading venture capital firms and world-class strategic investors. The company is headquartered in New York.
For more information about DailyPay, visit dailypay.com or follow @dailypay on Twitter.
About Parker's 
Parker's is strategically redefining America's convenience store industry, offering customers high-quality products, freshly prepared food and superior customer service at 54 retail stores throughout southeast Georgia and South Carolina. Headquartered in Savannah, Ga., Parker's has a commitment to exceeding customer expectations and has repeatedly been recognized as one of the nation's leading convenience store companies. Parker's also gives back to every community where stores are located through the Fueling the Community Program, which donates a portion of the profit of every gallon of gas sold on the first Wednesday of the month to area schools. In addition, the company endows the Parker's Emergency and Trauma Center at Memorial Hospital in Savannah and spearheads an Anti-Litter Campaign in Savannah.
For more information about Parker's, visit www.parkersav.com.
---
Recent Partner Announcements from DailyPay
Rockaway Home Care Partners with DailyPay

Rockaway Home Care, a 501(c)(3) nonprofit organization, has made DailyPay available to its 3,000 staff members, allowing them to make secure, instant transfers of their earned but unpaid wages, on-demand.

Oglebay Resort and Wheeling Park Partner with DailyPay

Wheeling Park Commission, which is comprised of Wheeling Park and the Oglebay Resort and Conference Center has made DailyPay available to its 650 employees, including approximately 300 part-time and seasonal summer staff.

Clayton Home Building Group Partners with DailyPay

Clayton Home Building Group®, a Berkshire Hathaway company and one of the nation's largest home builders of off-site and on-site built homes is offering DailyPay to its more than 10,000 team members throughout the United States.