All the Buzz at APA Congress
I recently attended my first ever APA Congress with eight of my coworkers and what an experience!
Too many fantastic sessions and keynotes to cover in a single recap, but there were definitely some key themes that wove their way through many of them. I've picked out the three that I think had the broadest range.
Technology is changing every aspect of our lives
If you missed Vivek Wadhwa's talk in Thursday's General Session, you missed a compelling look at technology — where we've come from and where we are going — and how it can be used for both good and bad.
Titled "Convergence, Disruption, and Opportunity: How Existing Industries Will be Disrupted and New, Trillion Dollar Industries Will Emerge," Vivek spoke about how technology is developing exponentially and at lightning speeds, in a way that is both fascinating and frightening at the same time.
Technology is poised to disrupt every area of our lives, both personal and professional. In a very short time, the way we do our jobs today will look very different. Rather than trying to resist this inevitable wave of technology, successful professionals and companies will embrace it and use it to enhance their lives.
As a result of technology, payroll professionals will have the opportunity to play a strategic role in their organizations and to impact their employees' daily lives. We all need to think about how technology is going to impact our world, the way we run payroll, and how we can use disruptive technology to make work easier and to improve our professional and personal lives.
Several of the sessions I attended also discussed technology and automation — for advances across time and attendance, payroll and human resources (e.g., biometric time clocks, predictive scheduling, paperless support orders, etc.).
The message? Technology is advancing rapidly, changing the future of work, pay and your personal life. Payroll professionals ought to think about embracing this kind of change or risk getting left behind.
The daily pay benefit is happening
Last year, DailyPay was the only vendor in the instant access to earned income space at the APA Congress. This year, we were one of four. Last year, everyone wanted to know why would anyone want to offer a daily pay benefit, vehemently objecting to ever offering it in their organizations. This year, many were asking lots of questions about constructive receipt of wages, how they could offer it in a compliant way, without disrupting their payroll processes, and how it could be accomplished without adding additional work to their already over-burdened payroll staff.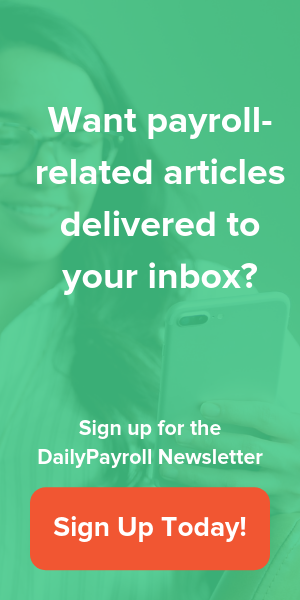 What a difference a year makes! As the fastest growing trend in payroll that we've ever seen, the demand for a daily pay benefit has increased by 400% since this time a year ago.
There were plenty of opportunities for attendees to learn more, from multiple sessions that were designed to provide specifics of the various daily pay benefit models, to a panel discussion featuring three company executives speaking to their respective models, to well-staffed booths, ready to provide demos and address questions. Many other sessions (e.g., Federal Payroll Issues, Challenges to Healthcare Industry Payroll) also made mention of the benefit as part of their overall presentation, due to the enormous gains in employer adoption over the past year.
Several sessions were filled to capacity, signalling not only a change of heart and a deeper understanding of the merits of a daily pay benefit, but also profound interest in compliance requirements, tax ramifications (i.e., constructive receipt of wages), and unique payroll considerations, including garnishments, deductions in arrears, off-cycle payments and tips.
What has become crystal clear is that offering instant access to earned income is no longer a question of "if we will do this," but a question of "when we will do this" because employers are coming to the realization that they have to offer it to compete in today's tight labor market and to meet employee demands.
Compliance remains a #1 concern
The compliance theme dominated this conference, very likely due to the myriad regulations that govern payroll processing and the variances among federal, state and local jurisdictions, with California (no surprise there!) leading the way with the greatest number of laws and concerns.
Many sessions dealt with global payroll considerations, tax withholding, FEMA regulations for processing payroll during/after a disaster, garnishments, and non-resident alien tax withholding.
What I learned is that employers can always be more generous when it comes to certain legal requirements for pay (i.e., FEMA), and that, generally, they should follow whatever provisions are most favorable to the employee.
Thank goodness we have the internet and knowledgeable resources in APA and state chapters to provide guidance as the regulatory landscape continues to evolve and new laws become more the norm than the exception.
I hope you enjoyed this year's Congress as well. Please feel free to share some insights you came away with in the comments below. And check out some of the pictures in our Congress photo album – maybe you'll even catch a glimpse of yourself!