3 Lessons Learned at ADP Meeting of the Minds
DailyPay was excited to attend ADP's Meeting of the Minds (MOTM) in Las Vegas earlier this month. It was our first time there and the energy and enthusiasm all around us was amazing!
Of course, handing out cupcakes from Sprinkles (a DailyPay partner) at our booth made us a popular stop and, when attendees came by, we discussed the real news around the Future of Pay and the fake news in our payroll-themed April Fools Day newspaper, The Payroll Examiner!
Several key themes emerged during the conference including:
The Changing Digital Workforce
Millennials and Gen Z employees are poised to be the predominant members of the workforce in the not-too-distant future, bringing unique expectations of how they want to be paid. At DailyPay, we refer to them as MAGGIEs (Millennials And Gen Z who Get Instant Everything). They are accustomed to doing everything on their mobile phones through apps, including ordering a car, a handyman, a dog walker or hot food delivery.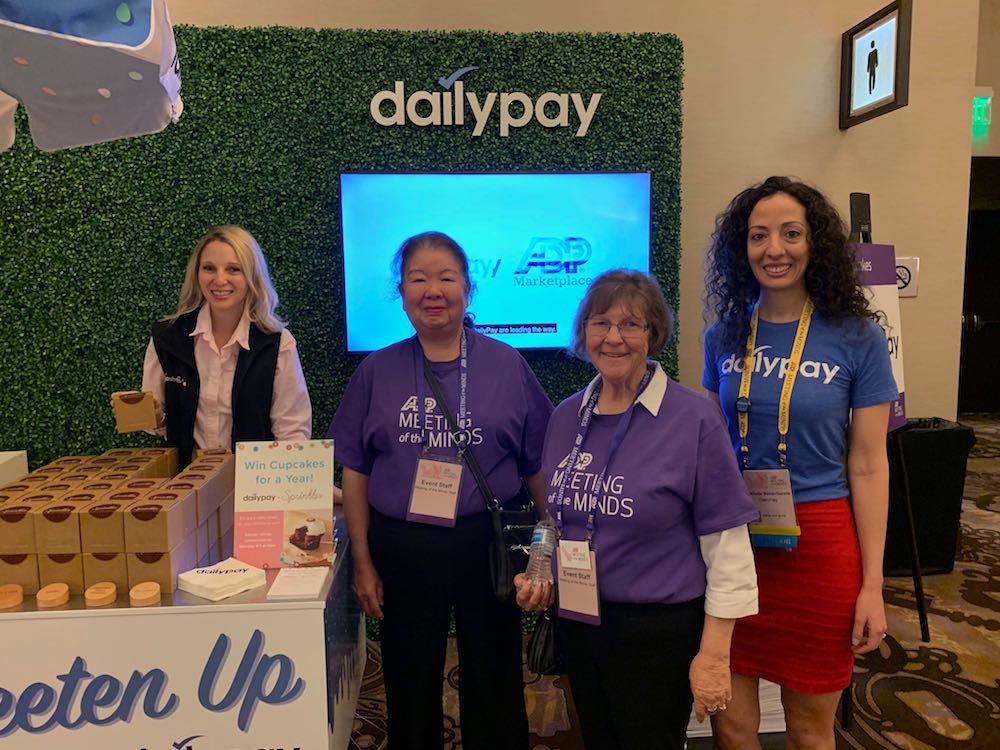 MAGGIEs have been raised during a period of rapid and profound technological changes. They know they can transfer money via Venmo and PayPal instantly, and want the same experience when it comes to access to their earned pay. MAGGIEs crave the kind of control, transparency and immediacy that a daily pay benefit can offer them through their place of work.
The gig economy, comprised of a growing number of freelance and independent contract workers, is contributing to this instant pay movement as well. They no longer want to wait up to 30 or more days for payment and will turn down jobs that don't pay them immediately following completion of a project — because there are many employers that will meet this requirement.
If employers want to foster a more engaged workforce, they will need to respond to the growing needs of this workforce. This will be increasingly necessary as a means to compete in the war for talent, especially in the tight labor market we're experiencing.
Wisely Pay by ADP® Pay Card
Many MAGGIEs are also moving away from paper checks to pay cards because they lack the traditional banking relationships that their generational predecessors had. Pay cards provide a digital mechanism to pay bills, make purchases, and track expenses for budgeting purposes — and if the money isn't available, they don't incur the typical (and dreaded) bank overdraft fees.
In support of the demand for pay cards, and to meet the needs of the current workforce that includes both millennials and gig workers, ADP recently launched the Wisely Pay by ADP pay card. Wisely Pay is a prepaid debit card that can be used for payroll deposits from multiple employers and to receive other types of payments (i.e., child support, alimony, tax refunds and other government payments).
Wisely Pay is backed by Visa® and Mastercard® and can be used to access cash, make purchases and pay bills. Wisely Pay is answering the needs of today's multigenerational workforce by offering an alternative to traditional banking relationships, with easy access to cash, purchasing capabilities, and the ability to avoid having to pay paper check fees. It also comes with financial management tools to help employees better manage expenses and savings.
In addition, employees who use the Wisely Pay card also have the ability to receive access to their earned but unpaid pay through an employer's partnership with DailyPay, answering their need for on-demand pay.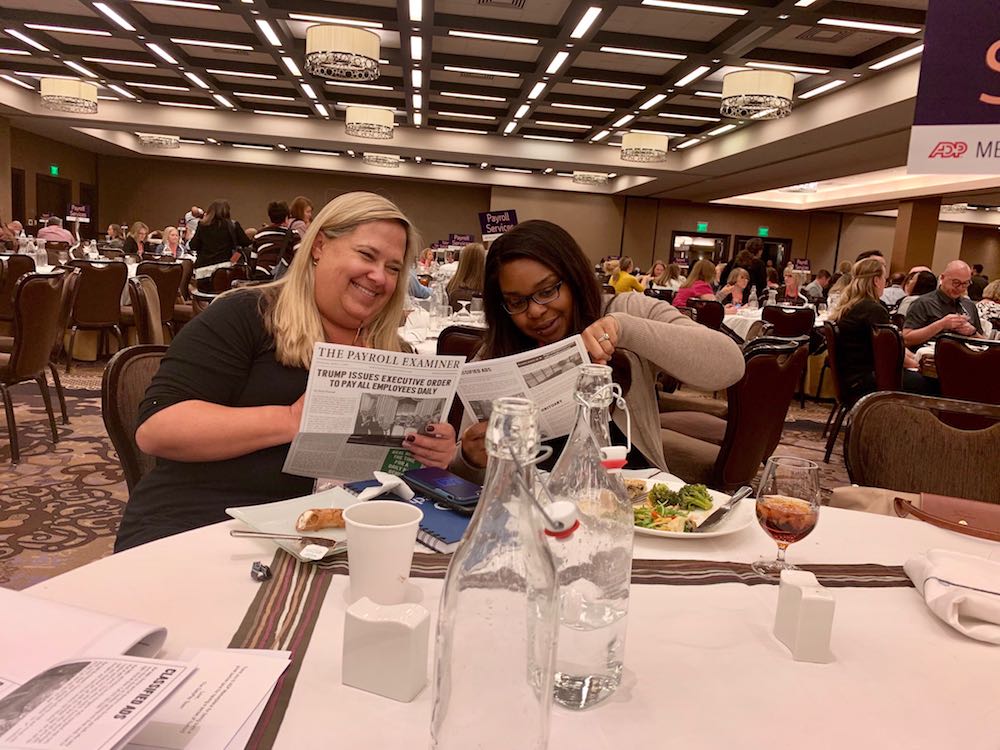 (Hot off the presses – The inaugural issue of The Payroll Examiner.)
In a tight labor market, where there are more open jobs than workers to fill them, and where employees will easily jump from one job to another for a mere $.25 more an hour, employers are scrambling to find innovative ways to attract, engage and retain workers. The costs of turnover are extremely high, both in terms of the number of hours it takes for recruiting, onboarding and training, and what turnover equates to in actual dollars.
Many companies are looking for innovative solutions to tackle retention and increase the likelihood that employees will stick around, including:
Help with student loan repayment
Flexible work schedules
Opportunities to work remotely
Generous paid vacation and leave policies
Cutting-edge technology to use on the job
Professional development opportunities
Flexible pay schedules or the ability to receive on-demand pay with DailyPay
The daily pay benefit was a major focus of the event, mentioned in the keynote session alongside this Sprinkles video. Sprinkles, a joint ADP and DailyPay partner, recently rolled out DailyPay to its 27 nationwide locations and saw fantastic results, particularly an increase in retention among its hourly population.
Many in this population are what DailyPay calls ERINs (Employees Requiring Income Now). ERINs need access to their earned pay for emergencies and to pay bills when pay dates don't sync with bill due dates. DailyPay addresses and answers this need.
It was clear throughout the event that the daily pay benefit is building momentum, because today's workforce expects it. It appears that the (bi)weekly pay cycle (or any pay cycle for that matter) will soon be a thing of the past, joining the demise of paper checks.
---
Want to see how the DailyPay + ADP integration works?
{{cta('24087fb7-921b-4faf-a29a-165e515cc69f','justifycenter')}}